Any contractor can install a roof. However, only industry accredited roofing contractors can offer fully vendor-backed comprehensive warranties, up to 50 years. We are certified and therefore able to offer the best warranty protection in the industry, known as SureStart Plus.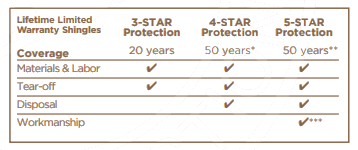 Standard Warranty
All new roofs come with a 10-year comprehensive warranty package at no additional cost. This includes:
A 10-year material warranty covering manufacturer defects in materials
Our exclusive additional 10-year Workmanship warranty covering all labor costs
Another key feature is that this warranty is 100% transferable and backed by CertainTeed.
---
CertainTeed Roof Warranties
SureStart Plus roof warranty (3-Star)
The 3-star warranty protects your investment by offering 20 years of coverage against manufacturer defects. Take confidence knowing this is inclusive.
SureStart Plus (Enhanced roof warranties, 4-Star & 5-Star)
Above all, it is important to note that only a certified roofing company can offer Enhanced Warranties. The SureStart Plus 4-star & 5-star warranties cover the full cost of materials and labor.
These warranties cover manufacturer defects as well as cosmetic defects. The 4-Star warranty offers 50 years of protection and includes roof materials, labor, and disposal of roofing material. The 5-Star warranty provides 50 years of protection and includes everything covered by the 4-Star warranty as well as disposal costs, and extended workmanship coverage.
---
In conclusion, here is the bottom line
Unlike other roof companies that may only cover you if the roof leaks in the first year or two, as a credentialed Select Shingle Master company, we can offer you the best roofing warranties in the industry, up to 50 years of coverage.
We stand behind our work. Not just for 1 year, or 2, 3, 4, 5, etc.
We offer the best warranty coverage in the industry.
Unlike others, only a certified roofing installer can offer that.
Our warranties fully cover labor and materials.
Our warranties are fully transferrable.
CertainTeed fully backs our work.
No strings attached and no fine print. It's as simple as that.
---
Important Information:
Know the facts about Warranties and Workmanship.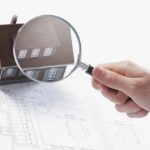 Above all, we value honesty and integrity (hence our mission statement for 50 years: "No Salesmen. No Gimmicks. Quality Roofing").
No matter which roofing contractor you choose, we want to be sure you have what you need to make the best and most informed decision possible, regardless of whomever you choose as your roofing contractor. That's why we've added this brief "Warranty 101" section to our website.
You've probably heard a lot of sales hype and terms tossed around. Warranties are important, but not all warranties are the same. Above all, no matter who you select as your roofing contractor, we want to help you understand.
Here is what you need to know:
There are two types of warranties:
Non-Prorated

warranties are generally the best. In a non-prorated warranty, a company will replace or repair a defective product, free of charge.

E.g.The warranty covers 100% of the repair of your dishwasher.
Prorated

warranties on the other hand may cover the replacement of a part, but do not cover labor and other costs.
E.g. The warranty covers the defective pump in your dishwasher, but you need to pay $150 in labor.
Our warranties cover 100% of materials and repairs. No surprises. No fine print.
---
Be sure your roofing contractor includes a Workmanship guarantee.
A Workmanship guarantee (a.k.a Workmanship warranty) guarantees that the work was performed correctly and any mistakes will be covered by the contractor.
E.g. The plumber who installed the dishwasher didn't do it right and it leaks. But the dishwasher itself isn't broken.
Ask the roofing contractor if they have a workmanship warranty.
How many years does the warranty last?
Is it transferrable?
Specifically, what does the warranty cover?
Very importantly, what are the exclusions?
Who will back your warranty if you are no longer in business?
Our Workmanship guarantee is 10-years, fully inclusive, and is backed by a national vendor, CertainTeed.
---
Industry Certification & Experience is important.
It is important to realize roofing contractors have various levels of experience. Of course, you want to select an experienced roofing contractor who is well-established with a proven track record and positive references. Not all roofing contractors are certified.
Industry Certification in any profession guarantees that the contractor is properly trained, tested, and they continue to meet the highest standards. Ultimately, this means that if for any reason, the original contractor who performed the work is no longer available, then the warranty and labor will be covered by the supplier.
Our work is 100% backed by Saint-Gobain, a multinational corporation founded in 1665.
We've been in business for 50 years, read about us.
We hold the highest BBB A+ rating.  Click here to see our profile.
---
The Best Roof Contractor Warranties in the business
Replacing a roof is no easy task. You need to hire a contractor, select products and choose colors. It's a lot. Before making the investment to improve your home, one thing you should also pay close attention to is the shingle warranty, because warranties are not all created equal.
There are many common misconceptions about shingle warranties and what they cover. CertainTeed, which offers the most comprehensive warranty options in the industry, wants to give it to you straight and answer your most common questions clearly and simply. Because, if you have a better understanding of how warranties work and the available options, then you can make a more informed decision and have greater confidence in your roofing choice.