Old and damaged gutters not only look bad but can lead to big problems. Gutters are essential for routing roof runoff away from your home. Installed properly, gutters keep basements and crawl spaces dry, preserve topsoil, protect siding from splatter stain and rot as well as shield windows and doors from water infiltration and damage.
Our Gutters are made on site using a Hidden Hanger System. Gutters consist of heavy gauge .032 aluminum with .024 downspouts. We offer a wide range of colors to match and/or compliment soffit and facia.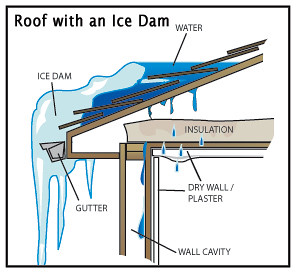 IMPORTANT: Ice indicates poor roof ventilation.
If you see this, it's not caused by your gutters.
This is called an 'ice dam'. Ice dams are caused by lack of ventilation, causing the snow to melt and refreeze. Ice dams cause significant damage to your roof and gutters. Click below to learn more.
---